Health
functional product optimized for those living in the Smart Era, daily intake can help eye health to stress relief
.
● Lutein-containing : It maintains the density of macular pigment that can be
● reduced by aging, thus contributing to eye health.
● It can help improve fatigue caused by stress.
● It is necessary for visual adaptation in dark places.
● It protects cells from harmful oxygen.
---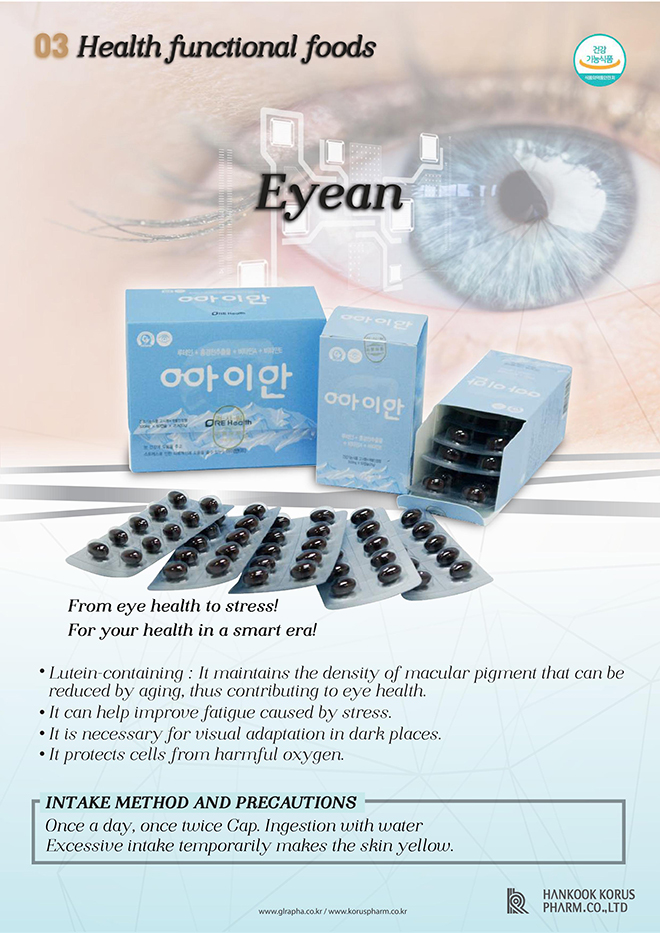 ---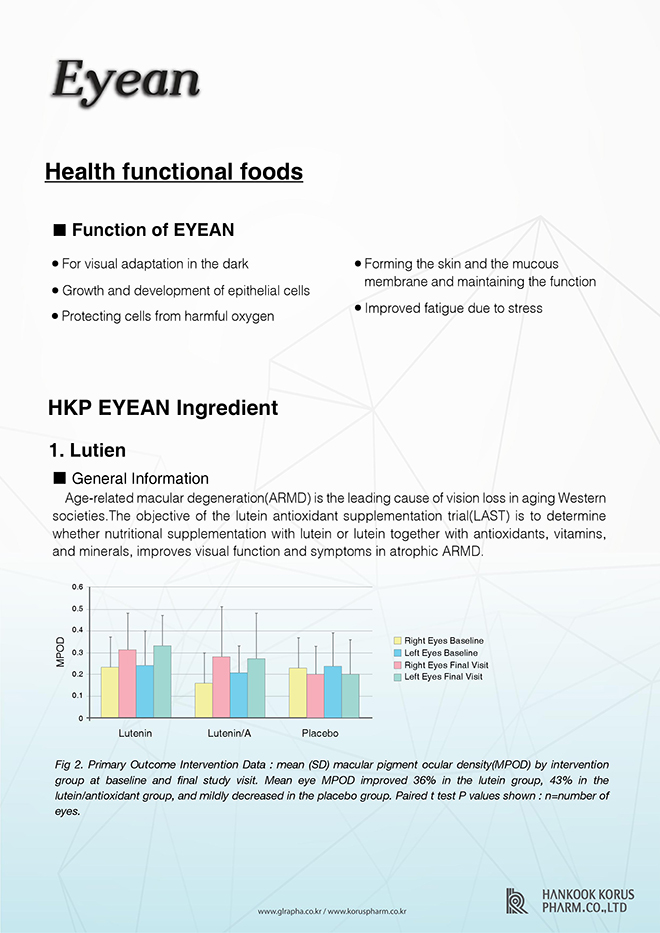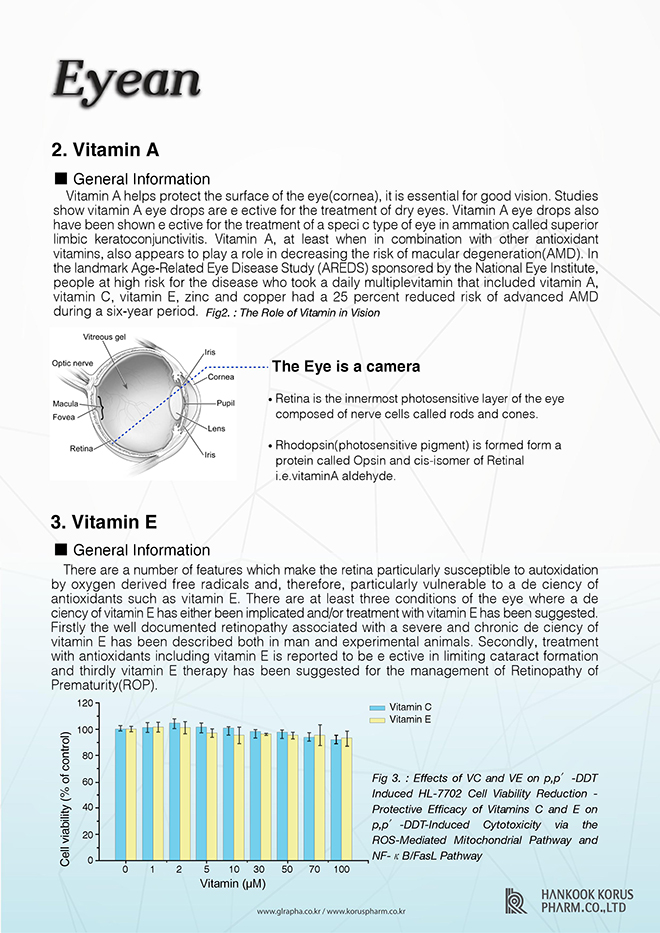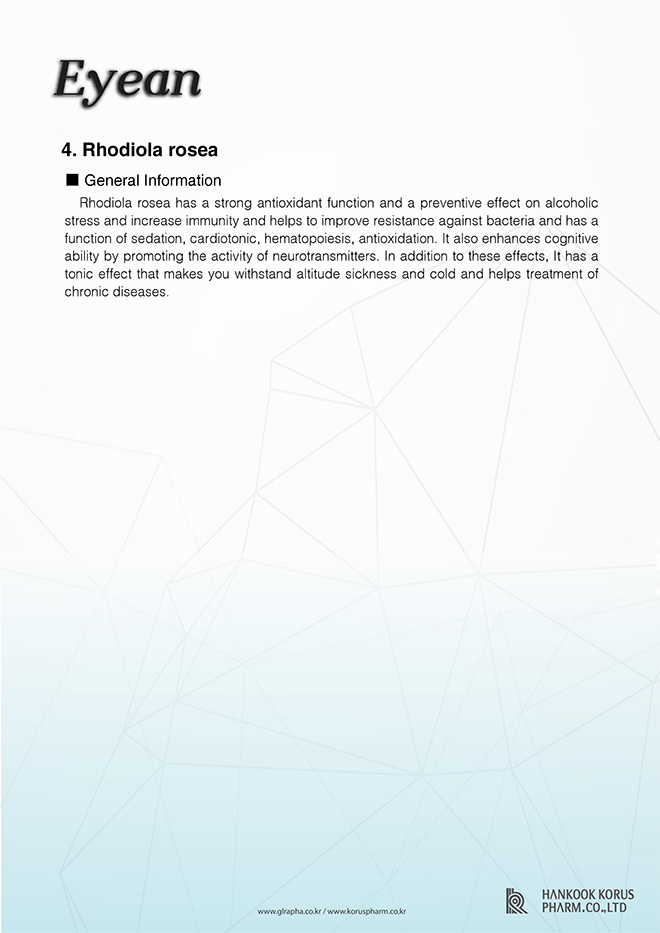 ---
INTAKE METHOD AND PRECAUTIONS​
Once a day, once twice Cap. Ingestion with water
Excessive intake temporarily makes the skin yellow.
---
Health functional foods​
Function of EYEAN
● For visual adaptation in the dark
● Forming the skin and the mucous membrane and maintaining the function
● Growth and development of epithelial cells
● Improved fatigue due to stress
● Protecting cells from harmful oxygen
---
HKP EYEAN Ingredient​
1. Lutien
General Information
Age-related macular degeneration(ARMD) is the leading cause of vision loss in aging Western
societies.The objective of the lutein antioxidant supplementation trial(LAST) is to determine
whether nutritional supplementation with lutein or lutein together with antioxidants, vitamins,
and minerals, improves visual function and symptoms in atrophic ARMD.
2. Vitamin A
​
General Information
Vitamin A helps protect the surface of the eye(cornea), it is essential for good vision. Studies
show vitamin A eye drops are e ective for the treatment of dry eyes. Vitamin A eye drops also
have been shown e ective for the treatment of a speci c type of eye in ammation called superior
limbic keratoconjunctivitis. Vitamin A, at least when in combination with other antioxidant
vitamins, also appears to play a role in decreasing the risk of macular degeneration(AMD). In
the landmark Age-Related Eye Disease Study (AREDS) sponsored by the National Eye Institute,
people at high risk for the disease who took a daily multiplevitamin that included vitamin A,
vitamin C, vitamin E, zinc and copper had a 25 percent reduced risk of advanced AMD
during a six-year period.
3. Vitamin E​
General Information
There are a number of features which make the retina particularly susceptible to autoxidation
by oxygen derived free radicals and, therefore, particularly vulnerable to a de ciency of
antioxidants such as vitamin E. There are at least three conditions of the eye where a de
ciency of vitamin E has either been implicated and/or treatment with vitamin E has been suggested.
Firstly the well documented retinopathy associated with a severe and chronic de ciency of
vitamin E has been described both in man and experimental animals. Secondly, treatment
with antioxidants including vitamin E is reported to be e ective in limiting cataract formation
and thirdly vitamin E therapy has been suggested for the management of Retinopathy of
Prematurity(ROP).
4. Rhodiola rosea​
General Information
Rhodiola rosea has a strong antioxidant function and a preventive effect on alcoholic
stress and increase immunity and helps to improve resistance against bacteria and has a
function of sedation, cardiotonic, hematopoiesis, antioxidation. It also enhances cognitive
ability by promoting the activity of neurotransmitters. In addition to these effects, It has a
tonic effect that makes you withstand altitude sickness and cold and helps treatment of
chronic diseases.