Health functional product
exclusively for men that is created using components helpful to men's health. It possesses diverse functions, such as improving fatigue, immunity, blood circulation and memory.
It also possesses an antioxidant function and a prostate improvement function.
● It is a premium men's health functional food that helps to improve normal
immune function, endurance, aroma oxidation, body energy and bone health.
● It is a functional food for adult men only.
● Prostate health as well as men's vitality health functional food.
---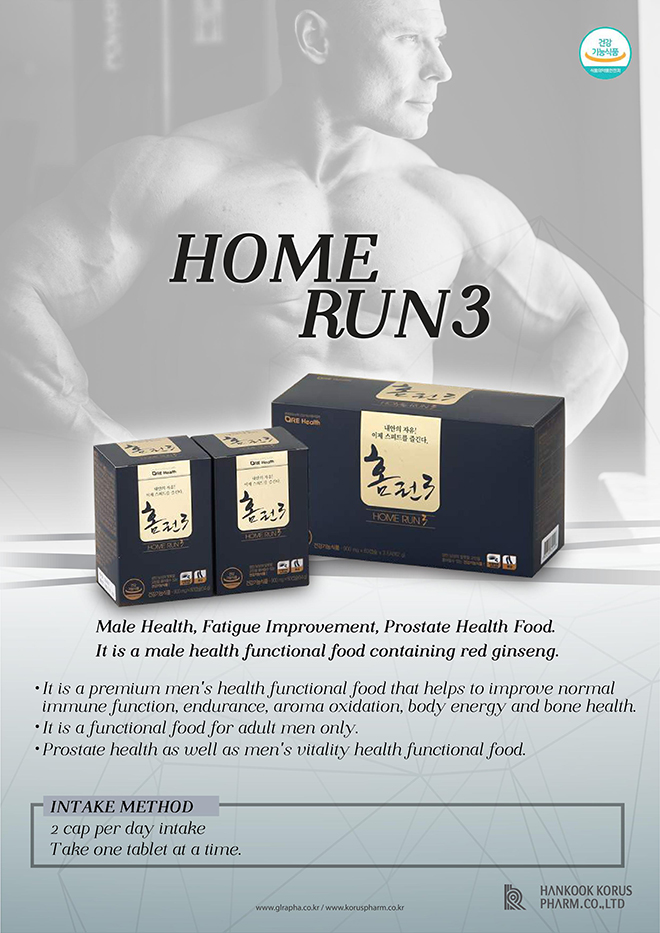 ---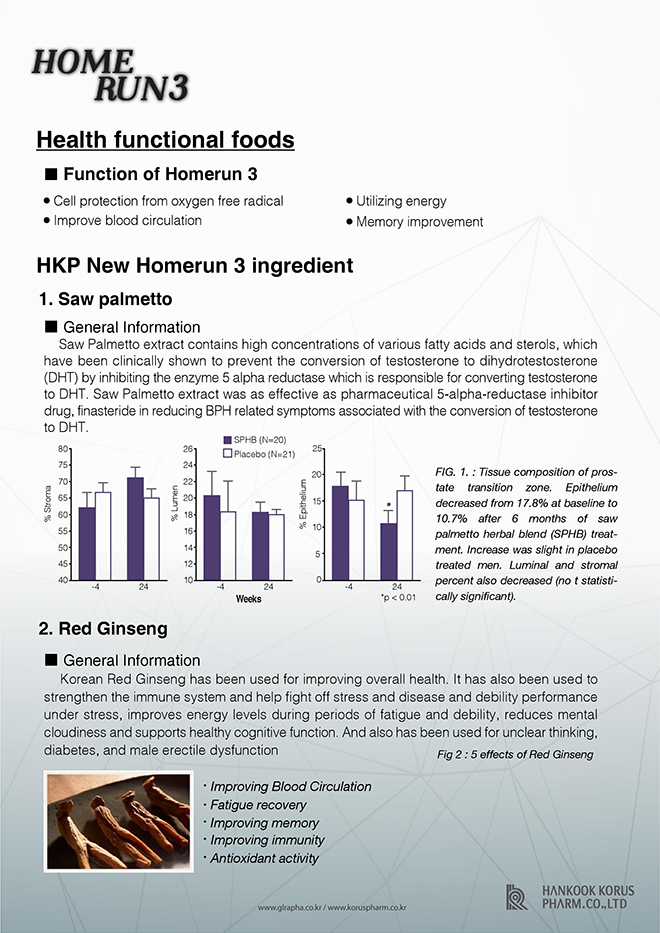 ---
INTAKE METHOD​
2 cap per day intake
Take one tablet at a time​
---
Health functional foods​
Function of Homerun 3​
● Cell protection from oxygen free radical
● Utilizing energy
● Improve blood circulation
● Memory improvement
---
HKP New Homerun 3 ingredient
1. Saw palmetto​
General Information
Saw Palmetto extract contains high concentrations of various fatty acids and sterols, which
have been clinically shown to prevent the conversion of testosterone to dihydrotestosterone
(DHT) by inhibiting the enzyme 5 alpha reductase which is responsible for converting testosterone to DHT.
Saw Palmetto extract was as effective as pharmaceutical 5-alpha-reductase inhibitor drug, finasteride in reducing BPH related symptoms associated with the conversion of testosterone to DHT.
2. Red Ginseng​
General Information
Korean Red Ginseng has been used for improving overall health.
It has also been used to strengthen the immune system and help fight off stress and disease and debility performance under stress, improves energy levels during periods of fatigue and debility, reduces mental cloudiness and supports healthy cognitive function. And also has been used for unclear thinking, diabetes, and male erectile dysfunction
*
Improving Blood Circulation
​* Fatigue recovery
​* Improving memory
* Improving immunity
* Antioxidant activity