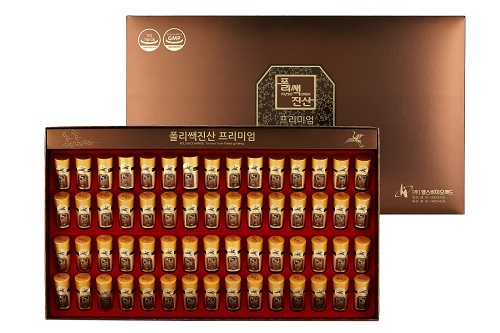 Ginseng polysaccharide extracted and separated from ginseng is a new-concept ginseng product that stands apart from ginsenoside, an active ingredient of the long-standing ginseng and red ginseng products. It is a new ginseng product containing galactose and arabinose as active ingredients.
An exclusive product that only Health BioMed can offer as the producer and vendor.
Features
Ginseng polysaccharide, which can be helpful for immunity enhancement, has been confirmed to boost the active performance of NK cells (natural killer cells for cancer) and macrophages (cells that eat bacteria, viruses and cancer cells), which are one of the representative inherent immunity cells that are vital for the human body according to human body application tests, by as much as 40% for ensured immunity enhancement.


Specification
With zero additives such as excipients,
100% ginseng polysaccharide extract (powdered form) product.
180g (3g * 60 bottles) / Set